Holly Viloria, RN, MSN, FNP, PMHNP-BC
Psychiatric Nurse Practitioner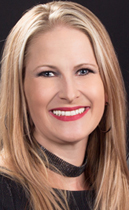 Holly is the CEO and owner of Laguna Family Health Center, Inc. She is dual licensed as a family nurse practitioner (FNP) and psychiatric / mental health nurse practitioner (PMHNP). As an NP, Holly sees patients independently and offers many of the same services as a medical doctor, yet combines both medical and nursing perspectives. Holly has experience in inpatient psychiatry, outpatient/private practice, chemical dependency/addiction medicine, primary care, and emergency settings. After working in all of these settings, she saw the need in the community for higher quality mental health services that offered personalized care for patients, psychiatry appointments that are comprehensive, and treating the patient/family in a holistic manner, not just as seen as symptoms and disorders. As an NP, she can diagnose, treat, and prescribe medications if needed. As a faculty member at CSULB, she also teaches psychopharmacology and thus offers evidence-based expert consultations for patients and other clinicians in the community. She aims for the least amount of medications with her clients and believes that medications can assist as the catalyst for the work that is done in therapy, in addition to improving other aspects of self-care/healing.
Holly's specialty areas include mood disorders, women's mental health, adolescent mental health, borderline personality disorder, and addiction/chemical dependency. Holly sees adolescents (age 12+) and adults for medication management /psychopharmacology consultations. Holly's practice style is one of collaboration with patients and she focuses on teaching, health promotion, and integrative care. She incorporates brief therapy into her work with clients and utilizes several different styles including cognitive behavioral therapy (CBT), dialectical behavioral therapy (DBT), solution-focused, and mindfulness to form an individual treatment plan with the client. Holly believes strongly in empowering her clients to take an active role in their physical and mental health, with a focus on a client's strengths and innate capacity to heal. For clients that are already connected with a therapist and are in need of a clinician for medications, Holly will work closely in collaboration with the therapist for the best solution-focused care of the client.
Education:
California State University, Long Beach-Long Beach, Ca  August 2005-May 2006
Post-Master's Certificate-Family Psychiatric Mental Health Nurse Practitioner (PMHNP)
University of San Francisco-San Francisco, Ca.  May 2001-December 2003
Master of Science in Nursing-Family Nurse Practitioner (FNP) & Adult Health Clinical Nurse Specialist (CNS)
University of California, Santa Barbara-Santa Barbara, Ca. September 1997-June 2000
Bachelor of Arts in Psychology and South Asian Religious Studies-Double major
Professional Experience:
Laguna Family Health Center, Inc. (previously: Laguna Psych, Inc.)-November 2009-present
CEO/Owner & Psychiatric Nurse Practitioner-Private Multidisciplinary Group Practice-Laguna Beach, Ca
Consultant-Psychopharmacology, Adolescent Mental Health, Addiction Medicine-various locations
California State University, Long Beach-January 2009-present
Adjunct Faculty/Lecturer-PMHNP Program & Psychopharmacology-Dept of Grad Nursing-Long Beach, Ca
Western University of Health Sciences-January 2006-January 2007
Clinical Faculty & Lecturer-Mental Health Nursing-Pomona, Ca.
Private Solo Practice-Holly Viloria, NP-June 2005-November 2009
Psychiatric Nurse Practitioner-Irvine, Ca & Laguna Beach, Ca
Brookside Institute-December 2005-December 2006
Director of Health Services-Dual Diagnosis Addiction/Mental Health Program-Irvine, Ca.
County of San Mateo/San Mateo Medical Center-January 2003-June 2006
Triage/Clinical Nurse-Psychiatric Emergency Services (PES) & Inpatient Psychiatry
Family Nurse Practitioner-Inpatient Psychiatry (Admission Physical Exams & Medical Evaluations)
Psychiatric Nurse Practitioner-Psychiatric Emergency Services (PES) & Consultation-Liaison Services
County of Alameda/Pathways to Wellness Clinic-February 2004-January 2005
Psychiatric Nurse Practitioner-Outpatient Mental Health Clinic
Licenses/Certifications:
ANCC National Board Certification-Family Psychiatric Nurse Practitioner
Nurse Practitioner Certificate-State of California
Nurse Practitioner Furnishing Certificate-State of California
Psychiatric Registered Nurse Designation-State of California
Clinical Nurse Specialist-Adult Medical-Surgical Nursing-State of California
Registered Nurse-State of California
Public Health Nurse-State of California
Crisis Prevention Intervention Certification/Training
Dialectical Behavioral Therapy (DBT) Trained Clinician
Drug Enforcement Administration License
Active Memberships:
Member-Orange County Chapter, California Association of Nurse Practitioners (CANP)
Advanced Practice Committee Member-American Psychiatric Nurses Association (APNA)
Business Alliance Member-School Power Foundation/Laguna Beach Unified School District
Member-National Alliance of Mental Illness (NAMI) Orange County
Business Member-Laguna Beach Chamber of Commerce
Business Member-Friendship Shelter-Laguna Beach