Tiffani Ghere, RD, CSP, CLEC
Registered Dietician
Board Certified Specialist in Pediatrics
Certified Lactation Educator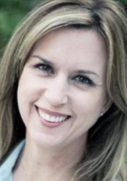 Tiffani is an integral part of our medical team and works with all ages. Her participation with the practice provides an even further focus on integrated wellness services. Collaboration with our team of Nurse Practitioner, Therapists, Psychiatrist and other clinicians promotes complementary treatment optimizing outcomes in mental health care. Tiffani assists our clients / families in assessing eating patterns and behaviors, identifying barriers and providing a comprehensive plan to map out a path to better nutrition. Meal planning and shopping guides can be also be customized for each client's specific needs. Tiffani has a passion for helping her clients gain a better understanding of their eating habits, addressing any barriers to a healthy relationship with food/nutrition and making more informed choices as you understand how the body is using the fuel you feed it.
Tiffani is a CCS paneled Registered Dietitian (RD) and is Board Certified as a Specialist in Pediatric Nutrition (CSP) by the Commission on Dietetic Registration. She has served at CHOC Children's Hospital of Orange County since 1999 as a Clinical Dietitian in the NICU, PICU, Medical and Surgical floors as well as the GI and Outpatient Specialty Clinics. She consults for CHOC Children's at Mission Hospital as the Clinical Specialist for the Level III NICU nursery as well as the Pediatric Intensive Care and Pediatric Units. Representing CHOC within Mission Hospital Medical Center, she acts a liaison between the two organizations ensuring pediatric needs are addressed in policy, for JCAHO and CCS standards as well as advocating for her patients at the clinical level.
In addition to her clinical work at CHOC and at Laguna Psych, she serves on the Pharmacy and Therapeutics Committee is participating in a clinical trial in the NICU with Traditional Chinese Medicine and the CHOC PSF Neonatology Group. She also serves on the El Sol and UCI Advisory Board, which addresses both the medical and educational curricula serving the school and Primary Care clinic in Santa Ana, California. Tiffani has also been an integral part of the Sapphire at School (SAS) lunch program, serving as both a Board Member and program consultant. SAS aims to serve fresh, wholesome foods to school-age children, while educating them on healthy choices that will create life-long habits. SAS has been involved with the Culinary Institute of America (CIA) and Harvard School of Public Health by participating in their Healthy Kitchens, Healthy Lives and Healthy Flavors, Healthy Kids campaigns.
Tiffani received her Bachelor's of Science degree from Cal Poly at San Luis Obispo in Food Science and Nutrition and studied Whole Foods at Bastyr University's Master's Program in Kenmore, Washington. She completed her Dietetic Internship at Loma Linda University with an emphasis in Pediatrics. She holds specialty certifications in Pediatrics and Lactation Education and holds membership in the Academy of Nutrition and Dietetics and the American Society for Parenteral and Enteral Nutrition (A.S.P.E.N.) With this extensive training, Tiffani is able to see clients of all ages and needs and is also trained in working with eating disorders / disordered eating such as anorexia, bulimia, binge eating, etc. In addition, she has experience working with athletes to help support them in obtaining the optimal level of nutrition for their training.
iffani's personal website & blog: www.sagerd.com