Dara Cortes, LCSW
Licensed Clinical Social Worker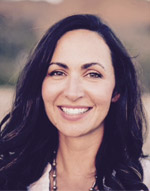 Dara has worked in the mental health and education sectors for over 15 years. Dara is California born and raised. She is a Licensed Clinical Social Worker and the newest member of Laguna Family Health Center.
Dara completed her Bachelor's Degree with a major in Sociology and an emphasis in Social Work in 2002, and continued her education at California State University Long Beach where she earned a Master's Degree in Social Work in 2004. Dara has experience as a specialist in the Orange County Teen Court and has presented on Trauma Informed Practices at both the county and state level. She has provided mental health treatment to children, adolescents, and adults in individual, as well as couples and family therapy.
Dara employs integrative psychotherapeutic modalities in order to meet the individual needs of each of her clients. She is dedicated to working with her clients in a strength based and empathic way to break down road blocks that are preventing quality of life for each client. The purpose of her work is to empower her clients in their own walk, and specifically for her clients to understand the emotional and psychological benefits of healthy perceptions and healthy interpersonal relationships.
She is committed to providing a safe and nurturing environment, where trust can be developed, and the therapeutic goals of the client can be effectively supported.

Education:
2002-2004: California State University Long Beach: Master of Science – Social Work, Pupil Personnel Services Credential-School Social Work & Child Welfare and Attendance
1998-2002: California State University Fullerton: Bachelor of Arts – Sociology, Emphasis in Social Work

Professional Experience: 
2016-Present: Therapist-Laguna Family Health Center: Laguna Beach, CA
 2013-Present: Program Specialist-Orange County Department of Education: Orange, CA
2013: Therapist-Chapman University: Orange, CA
2012-2013: Therapist-Family Forces/Camp Pendleton: San Clemente, CA
2007-2012: Educational Liaison-Orange County Department of Education: Orange, CA
2005-2007: Therapist-Western Youth Services: Orange, CA
2004-2005: Therapist-Telecare Corporation, Paramount, CA

Professional Licensure:
Licensed Clinical Social Worker (LCSW)-CA
Board of Behavioral Sciences (Lic # LCSW 27246)