Bonnie Yee-Hebert, PsyD
Licensed Psychologist
Specialty in Neuropsychological Testing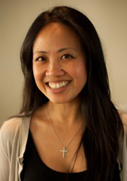 Dr. Yee holds a Post-Doctoral Specialization in Neuropsychology from Fielding Institute, a Doctorate in Clinical Psychology from the American School of Professional Psychology, with Magna Cum Laude honors, and a Bachelor of Science degree in Biology from the University of California, Irvine. Dr. Yee has a passion for testing and is able to offer clients, families and clinicians additional objective data that is obtained in standardized testing to assist in accurate diagnosis, treatment planning and education.
Since 2006, Dr. Yee has worked in diverse clinical settings, ranging from outpatient facilities for families and children affected by autism, an inpatient state hospital for developmentally disabled adults, nursing/senior residential communities with the elderly population affected by Alzheimer's Disease and other dementia related difficulties. Dr. Yee's current experience includes comprehensive neuropsychological evaluations for diagnosis of learning disabilities, ADHD, autistm spectrum disorders, and cognitive dysfunction. In providing comprehensive neuropsychological assessments, she is able to address a wide variety of disabilities, disorders, cognitive strengths and weaknesses, as well as rehabilitative treatments. Neuropsychology is a sub-specialty of clinical psychology that looks at dysfunction with the brain and also attempts to understand the relationship between brain and behaviors.
Neuropsychological assessment can also clarify treatment strategies and interventions when complaints may not meet full diagnostic criteria but clearly lead to difficulties in functioning at full potential at school, work, or in interpersonal relationships and other social interactions. Testing also provides a better understanding of a person's behavior and learning in school, at home, and in the community. Neuropsychological testing is slightly different from psych testing, in that it is more in depth and can answer specific questions. Neuropsychological testing is also more expanded then the psych testing offered in traditional school testing and not only helps to accurately diagnose but also to identify areas of strength and how to adapt the learning environment for the best success of the child/teen/adult.
Dr. Yee begins her work with clients / families with an evaluation that is a process of gathering information through interviews, history gathering, using specific tests, review of records, consultation with other professionals and direct observations if needed (for example, a child may be observed in classroom settings). All of this information is then integrated in order to answer questions about an individual's skills, functioning, emotions, and behavior. Components of testing may involve, all or parts or the following:
Cognitive Testing: IQ and Achievement testing to determine strengths and weaknesses of an individual's thinking. Domains involved: general awareness, attention, verbal reasoning and comprehension, visual-spatial ability, computation, abstract thinking, problem solving, social comprehension, and judgment.
Emotional: Assess emotional functioning, deficits in identity formation, personality functioning, and understanding developmental and emotional age. Obtain information regarding family dynamics.
Behavioral: Evaluate for risk of self-harm, aggression, malingering, deceit, and exaggeration
Executive Functioning: EF development is highly correlated with outcome and can help with treatment planning. Areas that are evaluated include: accountability, self-regulation, problem solving, planning, organization, inhibition, meta-cognition (self-awareness), communication, and working memory.
Pediatric Neuropsychology is an even more specific area of subspecialty and one which Dr. Yee can address. With her areas of expertise, she is especially able to advocate for families and assist in navigating school settings, qualifying for special education, designing IEP/504 plans, etc. Dr. Yee is also able to offer services in early childhood education by assisting families in choosing the right schools for their children, to address any learning challenges but also to ensure an environment that will challenge students enough, especially if they are intellectually bright. Areas of development typically evaluated in an early childhood assessment are: Cognition, Language, Gross and Fine Motor Skills, Social Skills, Emotional Regulation, Self-help/Adaptive Behavior Skills.
Steps included in a Pediatric Neuropsych Assessment include the following:
Diagnostic interview with parents
Review of the child's academic and medical records
Assessment of Intellectual strengths and weaknesses
Academic skills
Executive Functions (i.e., organization, planning, inhibition, and mental flexibility)
Attention variables (Inhibition, Hyperactivity, Impulsivity)
Learning and memory
Language
Visual and spatial abilities
Motor and sensory abilities
Developmental from gestation to the child's current age
Behavioral and emotional functioning
Social skills
Feedback session and comprehensive written report