Aimie Woods, LCSW
Licensed Clinical Social Worker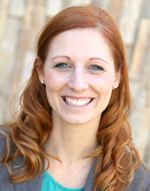 Aimie is a Licensed Clinical Social Worker with over 9 years of experience in mental health. Aimie has lived in Orange County throughout her life and joined Laguna Family Health Center in November 2017.
In 2004, Aimie completed her Bachelor's Degree in Psychology with a Minor in Child & Adolescent Studies. Aimie began as a practicing psychotherapist after graduating from the University of Southern California in 2008, with a Masters in Social Work. Since then, she has worked as a clinician and clinical supervisor to at an outpatient mental health unit in Orange County and at her private practice in Huntington Beach.
Through her years of experience, Aimie has grown to specialize in the treatment of anxiety, depression, life transition management, trauma recovery and maternal mental health. Her goal as a clinician is to provide a safe environment that allows clients to flourish in their own unique ways. Her approach is to create an individualized plan of care that applies a variety of perspectives including Cognitive Behavioral Therapy with somatic awareness techniques, Social Learning Theory, Positive Psychology principles and more. Her role, in each session, is to be an empowering support to clients as they develop their own personal awareness and mental wellness.
Education:
2006-2008: University of Southern California, Master of Social Work; Pupil Personnel Services Credential-School Social Work; Families and Children emphasis
2004-2006: California State University, Fullerton, Bachelor of Arts in Psychology; Minor in Child & Adolescent Development
Professional Experience:
2017-Present-LCSW: Laguna Family Health Center: Laguna Beach, CA
2015-Present-LCSW & Clinical Supervisor: Private Practice: Huntington Beach, CA
2008-2017 LCSW & Clinical Supervisor: The HOPE Center Partial Hospitalization Program-Anaheim Global Medical Center
Professional Licensure:
California Board of Behavioral Sciences LCS#29102
Professional Memberships & Additional Certifications:
National Association of Social Work (NASW)
International Association of Trauma Professionals (IATP)
Certified Clinical Trauma Professional
Maternal Mental Health Professional Certificate